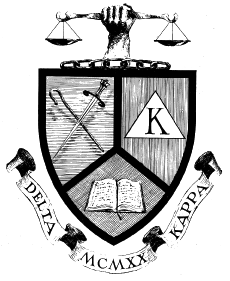 The History and Contributions of Delta Kappa Fraternity, Inc.
to SUNY Potsdam
Delta Kappa Fraternity was originally founded in 1920 at the State Normal School, Buffalo, NY, under the name Kappa Kappa Kappa to represent the tri-Kappa symbolism of Korufaios, Kathapos, and Kosmos. The Five Original founders were James Finley, Albert Meinhold, Albert Stalk, Fred Weyler, and Arthur S. Bellfield.
A landmark in the history of Delta Kappa Fraternity occurred in 1930 when the fraternity was nationalized as an incorporation, Kappa Kappa Kappa, under the corporate law of New York State. It was now recognized as a national fraternity for the teaching profession.
From 1936 to 1937 chapter delegates completed a second incorporation in which the name was changed from Kappa Kappa Kappa to Delta Kappa due to the possibility of mistaken identification with the Ku Klux Klan. The Tri-Kappa symbolism was retained with the use of the Greek letter Delta, meaning three.
The Delta Kappa Crest shown above has been a symbol of the fraternity since the brotherhood's earliest beginnings. The Crest of Delta Kappa contains many elements that are deeply interwoven with the fraternity's purpose and philosophy.
According to the Spring 1961 Deltan (Delta Kappa National Newsletter), explanation of the Crest proceeds from bottom to top. The scroll under the shield bears the name and founding date of the fraternity. The large shield is triangularly divided to represent the mystic nature of the three Kappas. The sword and staff in the upper left section are taken from the first letter of the Greek word "Korufaios," meaning "to lead." In the lower section of the shield is a book which refers to "Kosmos," meaning "honorableness." In the right section of the shield is the design of the Greek Letters D.K., which brings out the Tri-Kappa symbolism and also completes the mystic nature of the three Kappas?namely "Kathapos," meaning "uprightness."
Above the shield is a chain of links which indicated strength of the fraternal bond. At the top, the scales, supported by the arm of justice, suggest the balance of individual growth through the socializing influences which are: fellowship, scholarship and leadership.
Although Eta Chapter of Delta Kappa was installed at Oneonta State Teacher's College, in 1942 World War II necessitated that the entire fraternity be rendered inactive for the duration. However, his inactivity was short lived. In 1946 the returning war veterans successfully reactivated the fraternity with the addition of Theta Chapter, Potsdam, NY.
Everything was running smoothly for Delta Kappa and the future looked prosperous when in 1953 the Board of Regents of New York State issued an edict forcing the abandonment and inactivation of all chapters affiliated with national societies in the state supported colleges of New York. As a result of this edict, the Theta Chapter of Delta Kappa National Fraternity, Inc., incorporated under the new name Delta Kappa Theta Fraternity, Inc.
It has now been over 70 years since the charters members of Delta Kappa Theta, Fraternity, Inc., were initiated on June 1, 1946; and during that time Delta Kappa Theta has made many contributions to both the Potsdam community and student body at SUNY Potsdam.
Delta Kappa Theta was one of the first Potsdam Greek houses to adopt a risk management plan. This plan was constructed by our Alumni Association, and also approved by the Potsdam Police Department. In appreciation for the help and cooperation by the Potsdam Police Department, Delta Kappa Theta donated a brand new copy/fax/scanner machine to the department. Delta Kappa Theta also worked with SUNY Potsdam to address changes that needed to be made with regards to pledging in by co-writing addendum D in the Greek college charter in 2002.
In addition to these achievements Delta Kappa Theta has also been involved in many community service projects, including an annual cleanup of Stone Valley, volunteering at a house of people with disabilities, and various landscaping, painting, and general construction projects. Delta Kappa Theta has also hosted brunches for hospice, and helped at relief dinners for Haiti. Delta Kappa Theta participates annually in the local Adopt A Highway Program, where we clean up a portion of Route 56 many times a year. Delta Kappa Theta also walks annually at the SUNY Potsdam Relay for Life. In 2013, Delta Kappa Theta raised $5,198.78 for SUNY Potsdam Relay for Life. Not only was Delta Kappa Theta, the top fundraising team out of 63 teams, but Delta Kappa Theta alone fundraised 10.03% of the total money donated for the event.
Delta Kappa Theta's current brotherhood for Spring 2013 consists of 26 men, ranging in age from 19-22, who are not only from New York, but also Connecticut, South Africa, and Peru. Delta Kappa Theta is composed of men that have no concern about a man's race, or nationality; our current brotherhood exemplifies this belief as men of Caucasian, African-American, and Hispanic descent, all work together to uphold the honored and valued traditions of Delta Kappa Theta Fraternity.
Delta Kappa Theta also has a very active Alumni Association that the active membership is in contact with weekly to help ensure that our values and traditions are passed on from one generation to another, decade after decade. Tom Crawford III, Delta Kappa Theta Alumni President, has been involved in not only advising and supporting Delta Kappa Theta Fraternity, but he is also active in the SUNY Potsdam Greek Alumni Council. George Arnold, SUNY Potsdam Director of Dining Services, has been an honorary Brother of Delta Kappa Theta since the Fall of 1990, and has been a very active and important advisor to the fraternity for the past 23 years. Several brothers of Delta Kappa Theta have also been captains on many different SUNY Potsdam sports teams over the years. Other notable Delta Kappa Theta Alumni include previous SUNY Potsdam Distinguished Service Award Winners Dale Zubrick (1998), Gary Hind (2000), Steve Immerman (2006), Guy Henry (2010) and Jason Patchen (2017). Delta Kappa Theta Alumni have also served on the SUNY Potsdam Board of Trustees, received the Minerva Award (Gary Hind 2011), and have gone onto to become entrepreneurs, and leaders in their fields of choice and in their communities.
The best way to illustrate the achievements and accomplishments of the Alumni noted above is through the example here. Delta Kappa Theta Fraternity offers students a greater opportunity to become successful professionals, because when men are learning what they need to know in the classroom, after class they immediately are able to apply these lessons in a real world business environment through their experiences at Delta Kappa Theta Fraternity. This allows students the opportunity to develop not only an education, but also the chance to utilize this knowledge faster, and develop real world life skills that will be applied in their future endeavors, and job opportunities.
This opportunity is especially unique to SUNY Potsdam students, because Delta Kappa Theta offers an experience and education that cannot be replicated in the classroom or by living in a dormitory style room for four years.
After students graduate from SUNY Potsdam, the lessons learned in the classroom combined with the experiences and skills developed at Delta Kappa Theta all contribute towards the financial success of Delta Kappa Theta Alumni. Alumni of Delta Kappa Theta recognize, appreciate, and remember these experiences and opportunities offered at SUNY Potsdam, and as a result they more willing to give back either through volunteering, mentoring, or financially. This is precisely what happened in SUNY Plattsburgh in September of 2012.
Last September about 40 Delta Kappa Delta Fraternity alumni returned to the SUNY Plattsburgh campus to give back to their alma mater and to establish a permanent memorial to their brothers. The ceremony took place on a rainy afternoon beside Hawkins Pond, where the group's memorial will one day stand. There, members reminisced, lit candles in remembrance of brothers who have died and spoke of the history of the college's first fraternity.
Established in 1927, Delta Kappa Delta was originally the Delta chapter of Kappa Kappa Kappa. Although the chapter has since disbanded, the brothers have remained in touch over the decades. Paul McCadam, a brother from the Class of 1970, said, "DKD members hope the memorial will provide a place of beauty and reflection ? one that might inspire SUNY Plattsburgh students to give back to their alma mater as alumni."1
In closing, for over 90 years on many college campuses, Delta Kappa Fraternity has instilled leadership, honorableness, and uprightness in young men through the strength of the fraternal bond, and during the past 67 years men at SUNY Potsdam have had the luxury of experiencing this rare, unique, and exciting opportunity. However, the greatest contribution that Delta Kappa Theta Fraternity has made to SUNY Potsdam is as follows:
We are in a time and culture where the maxim of "Leave something better than when you found it" is needed now more than ever. We are a nation that lacks leadership, morals, and values. 
At SUNY Potsdam, Delta Kappa Theta Fraternity, Inc. presents the opportunity for young men to experience individual growth based on our founding traditions of Leadership, Honorableness, and Uprightness. Through the strength of the fraternal bond, Delta Kappa Theta Fraternity is not only a brotherhood that is proud to call SUNY Potsdam home, but we are a brotherhood that exemplifies the type of men that will give the college pride in knowing that these distinguished men of character earned their degrees from SUNY Potsdam.
SOURCE: 1. Delta Kappa Delta Honors Brothers, Alma Mater with Scholarship, Memorial  https://www.plattsburgh.edu/news/news-archive/dkd.html